This event is expired!
International Conference on Information Communication and Software Engineering ICICSE on March 18-20, 2022 in Chongqing, China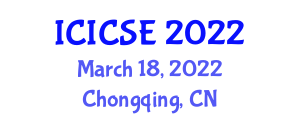 Publication:
Accepted papers will be published into ICICSE 2022 Conference Proceedings. The proceedings will be archived into IEEE Xplore Database and be submitted to Ei Compendex and Scopus after the conference.
Conference Schedule:
March 18, 2022---Sign-in for ICICSE 2022 (Conference Material Collection)
March 19, 2022 (Morning)----Opening Remarks & Keynote Speeches
March 19, 2022 (Afternoon)---- Author Presentations
March 20, 2022---- Online Parallel Sessions
Contact:
Secretary: Ms. Robin Luo
Email: [email protected]
Telephone: +86-18227609313 | +86-28-86527868
Website: http://www.icse.org/
Track 1. Computer Information Science
Big Data、Business Information Systems、Algorithm and Data Structure, Database Computing、Cloud Computing、Computational Intelligence and Complexity、Computational Science and Engineering、Computational Statistics、Database Management and Information Retrieval、Geographical Information Systems、Human–Computer Interaction、Image Processing、Information Systems and Applications、Intelligent Transportation System、Machine Translation、Security and Cryptology、Recommender systems、Data Compression、Data Encryption、Data Mining、Database Systems、Distributed and Parallel Processing、Distributed Systems
Track 2. Software development and design
Search-based software engineering、Program repair、Software testing、Program analysis、Programming languages、Mining software repositories、Software ecosystems、API design and evolution、Release engineering and DevOps、Software visualization、Human aspects of software engineering、Agile methods and software processes、Software economics、Crowd-based software engineering、Ethics in software engineering、Requirements Engineering、Modeling and Model-Driven Engineering、Software Architecture and Design、Software Security、Reliability and Safety
Track 3. Communication and Information Engineering
Communication Networks、Embedded / cyber-physical systems、Mobile applications、Communication Engineering、Communication Networks、Wireless Communications、Mobile Communications、Infrastructure for Next Generation Networks、Information & Communication、Coding Theory、Optical Communications、Internet Technologies、Communication Software、Ad-Hoc、Sensor Networks、Mobility management、Multimedia & real-time communication、Network management、Network reliability and security、Network traffic characterization