International Conference on Chemical and Biological Sciences ICCBS on June 08-11, 2023 in Sapporo, Japan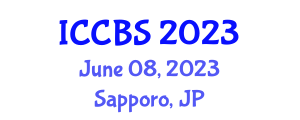 Publication:
Option 1: International Journal of Chemical Engineering and Applications (IJCEA) [ISSN: 2010-0221]. Abstracting/ Indexing: Chemical Abstracts Services (CAS), Ulrich's Periodicals Directory, CABI, Electronic Journals Library, Google Scholar, ProQuest, Crossref, EBSCO, CNKI.
Option 2: International Journal of Pharma Medicine and Biological Sciences (IJPMBS) [ISSN: 2278-5221]. Abstracting/Indexing: CNKI; Embase; ProQuest; Google Scholar; etc.
Conference Schedule:
June 8, 2023 - Reception & Materials Pick-up
June 9, 2023 - Keynote Speeches and Parallel Sessions
June 10, 2023- Invited Speeches & Parallel Sessions
June 11, 2023- Academic Visit
Contact us:
Ms. Alyson Li
Email: [email protected]
• Computer-assisted surgery
• Computer assisted intervention systems
• Computer aided diagnosis
• Interactive 3D modelling
• Computational support for clinical decisions
• Health monitoring systems and wearable system
• Biosensors and data acquisition
• Biomedical imaging, image processing & visualization
• Bio-signal processing and analysis
• Biomedical robotics and mechanics
• Bioelectrical and neural engineering
• Biomedical data engineering
• Cell engineering
• Neuro-engineering
• Therapeutic engineering
• Rehabilitation engineering and clinical engineering
• Pharmacology
• Biochemistry
• Nano-Medicine
• Biomaterials