World Congress on Nanotechnology NANO2023 on November 16-18, 2023 in Boston, United States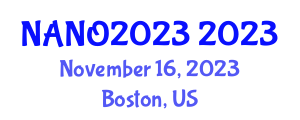 Short Name: NANO2023
Event Type: Conference
Presentation: Hybrid
Contact E-mail: [email protected]
Location: Boston, United States
Venue: Hilton Garden Inn Boston Logan Airport
Date: November 16-18, 2023
Organization: Scientific Collegium LLC,
Agrand welcome to the World Congress on Nanotechnology 2023 (NANO2023), with the theme on "Novel progress in Nanotechnology in the 21st Century". This Congress will be held during November 16-18, 2023 in Boston, USA in collaboration with the International Journal of Materials and Nano Sciences (IJMNS). The first two days (Nov 16-17) of the congress will be the in-person mode and Nov-18 will be the virtual mode.
Nanotechnology has gained a unique place in science due to its various research applications in different fields of science i.e., medicine, engineering, electronics, biotechnology, pharmacy, chemical sciences, agriculture, etc. The novel progress and the research applications in the arena of nanotechnology are at a fast rate in various institutes and industries throughout the world. World Congress on Nanotechnology 2023 is a perfect global platform that helps in filling the gaps in communications among professors, scientists, industrialists, academicians, and research scholars from various institutes, industries, and universities in the world.
The organizing committee of NANO2023, invites all across the global nono research pioneers and supporters to attend this premier congress which is going to host presentations from eminent personalities across the globe in the area of Nanotechnology and its allied sciences.
NANOMATERIALS and RESEARCH ADVANCEMENTS
Carbon based and Metal Based Materials
Organic and inorganic based nanomaterials
Nanomaterials Fabrication, Characterization and Tools
Dendrimers
Nanoparticles
Nanocomposites
Nanocrystalline solids
Nanofluids
Nanomaterials inventions and their applications
2. NANOELECTRONICS, NANOPHOTONICS & NANOMAGNETICS
Nanofibres, nanowires and Nanotubes
Nanofilms, Nanoblocks
Nanocrystalline alloys
Nanoscale objects
Nanosensors and Actuators
Nanoelectronics
Nanophotonics: solar cells, optoelectronics, photonics
Nanomagnetics
Semiconductors and super conductors
Applications of nano-electronics,photonics and magnetics
Flexible and Wearable Devices
3. ADVANCES IN NANOFABRICATION & NANOMANUFACTURING
Multifunctional Carbon- and Gold-Based Nanocomposites
Nanomaterials Derived from Metals and Quantum Dots
Green Chemistry for Nanoparticle Synthesis
Tailoring Surface Chemistry for Biomedical Applications
Glyco-nanomaterials and Their Applications
4. NANO IN MEDICINE and PHARMA
Nanotechnology in Medicine
Nanotechnology and Vaccines
Nanotechnology in Pharma
Nanomedicine,Durg Delivary,Pharmaceuticals
Cancer nanobiotechnology
Nano Research on Covid-19 and its Medicine
Nano-enabled Biomarkers
Theranostic Polymeric Nanostructures
Lung Cancer: Chemotherapy Based on Pulmonary Nano-Delivery
Mannosylated Liposomes for Drug-Resistant Colon Cancer Therapy
PLGA Nanoparticles for Intracellular Delivery and Controlled Drug Release