This event is expired!
Water Efficiency Conference 2022: Water Resources Resilience for Small Island Developing States SIDS on December 14-16, 2022 in Tunapuna, Trinidad and Tobago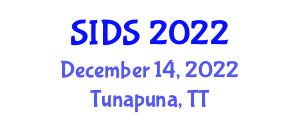 You are cordially invited to submit abstracts and subsequent full papers to the bi-annual Water Efficiency Conference organised by the Water Efficiency Network and:
The University of the West Indies, St. Augustine Campus, Trinidad, West Indies.
The Association of Professional Engineers of Trinidad and Tobago (APETT).
Aim
The bi-annual conference aims to foster knowledge exchange and transfer between academia, researchers and industry practitioners. It is a good opportunity to showcase the latest, cutting edge research and developments related to the conference theme: Small Island Developing States & Water Resources Resilience. Small island regions are acutely aware of the environmental risks and the need to invest in more resilient water services to safeguard its economic growth and development. Therefore, this conference will include special sessions on Regional Integrated Approaches, Sustainable Water Resources Management Approach and Climate Change Adaptation for tackling the complex challenges of Small Island Developing States (SIDS) across the Caribbean region.
Key dates:
Abstract submission deadline: 30 December 2021
Paper submission deadline: 30 April 2022
Revised paper submission deadline: 30 May 2022
Registration opens: 30 December 2021
Early registration deadline: 30 May 2022
Conference starts: 14 December 2022
How to participate
EasyChair Registration and login required. Previous delegates can use existing login details. Authors are limited to a maximum of two submissions.
Papers and presentations:
Extended research abstract or full papers of minimum 4 pages, and maximum 10 pages long
Shorter-length industry papers and case studies of up to 4 pages, but not more than 10 pages maximum
At least 1 author of the paper should attend and present the paper at the conference
All papers will be subjected to a double-blind review process and included in the open-access ISBN registered e-proceedings
Posters and abstracts:
A1 size, full-colour research or industry posters can be displayed at the conference
A 250-word abstract to be included in the conference proceedings
At least 1 author of the poster will be required to attend the conference
Flash presentations, multimedia and abstracts:
Quick-fire 5-minute presentation of research or industry work followed by round-table Q&A and discussion
Multi-media options e.g. short videos, performances are allowed
A 250-word abstract of the presentation to be included in the conference proceedings
At least 1 author of the paper will be required to attend and present at the conference
Student and doctoral submissions encouraged. Certificates will be issued for conference attendance. Prizes and certificates will be awarded for best poster, paper and presentation from research students. Accepted papers will be invited to participate in the conference in one of the formats below. Proceedings from the conference are ISBN registered and published as Open Access.
In addition, shortlisted papers will be invited to submit extended papers to special issue journals including:
Institute of Water Journal
West Indian Journal of Engineering
Journal of The Association Of Professional Engineers Of Trinidad & Tobago
Journal of Architectural Engineering and Design Management
Conference chairs
Dr Kiran Tota-Maharaj
Reader in Department of Civil Engineering

School of Infrastructure & Sustainable Engineering

Aston University, Birmingham UK

Email: [email protected]
Prof Sue Charlesworth
Centre for Agroecology Water and Resilience

Coventry University, Ryton Gardens, Wolston Lane

Coventry UK

Email: [email protected]
Prof Edwin Ekwue
Professor and Dean Faculty of Engineering

The University of West Indies, St.Augustine Campus

Trinida, West Indies

Email: [email protected]
Scope
Researchers and industry practitioners are cordially invited to submit papers, case studies and best practice solutions related to the conference theme and topics as detailed below (this list is not exhaustive):
Bringing resilience to life
Knowledge making & social change
Net-zero through efficiency and resilience of the built environment
Capacity building for climate & environmental change
Local, regional & global case studies
Community responses to environmental hazards
Public engagement & participatory processes
Collaboration, partnerships & relationships
Smart & resilient water, communities, cities
Customer, citizen and community innovation
Smart processes, technologies, systems
Drought-flood continuum
Supply chain standards & processes
Ecosystem services
Water efficiency -data-driven, household, non-household, including SMEs
Efficiency-equity nexus
Water leadership & governance
ICT for water
Water reuse & recycling
Innovation in product, practice, process, protocol or policy
Water, Sanitation & Health (WASH) in temporary settlements & emergencies
Integrated resource efficiency & resilience
Other associated topics not listed above
Name: Water Efficiency Network
Website: http://www.watefnetwork.co.uk
Address: University of Bath
The network provides a forum to collaboratively explore the supply, treatment, distribution, risk monitoring, improved efficiency and conservation of water within the built environment. It also investigates the challenges to improving the adaptive capacity of building users, providers and professionals and consequently facilitate long-term, adaptable water efficiency through behaviour change and the use of technology.
| Description | Price | Date |
| --- | --- | --- |
| Full price | USD 600.00 | Before November 30, 2022 |
| Early bird* and WATEF network members | EUR 500.00 | Before May 30, 2022 |
| Students and scientific committee members | EUR 400.00 | Before May 30, 2022 |
| Online only, and local delegates** | EUR 300.00 | Before May 30, 2022 |
| Upgrade to in-person participation | EUR 250.00 | Before May 30, 2022 |
| Partners, family and guests*** | EUR 200.00 | Before May 30, 2022 |