The International Nanotechnology Conference NANO.IL.2024 on February 27-29, 2024 in Jerusalem, Israel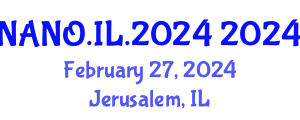 NANO.IL.2024 is a central meeting point for local and international companies, investors, universities, and government representatives for bringing together elite speakers from academia, business and government. We anticipate a large number of attendees from Israel and abroad with diversified expertise and interests, providing first hand access to cutting-edge technologies and solutions. We will have scientific innovation presentations by top scientists and speakers, start-up companies and new technologies on the verge of reaching commercialization, multinational organizations, top defense related companies, hundreds of scientific posters and a rich display of latest innovations and product prototypes, all seeking new ideas and fruitful collaborations.
NANO.IL.2024 is jointly organized by the Israel National Nanotechnology Initiative (INNI) and the Nanotechnology centers and institutes at Israeli universities. Please join us and meet top researchers and leaders from Israel and abroad to gain a joint look at cutting-edge innovations and technologies, leading scientific achievements and unique business and investment opportunities.
Tickets: https://go.evvnt.com/1761606-1?pid=10008
Time: 08:00 - 18:00
Prices:
Full Participant - Academy - Early Bird: USD 250.00,
Full Participant - Industry - Early Bird: USD 320.00
Speakers: Danny Porath, Haim Rousso, Rafi Koriat, Meital Reches, Yuval Garini, Yuval Golan, Gadi Eisenstein, Aviv Ronen, Alon Stopel