This event is expired!
South East European Testing Board SEETEST on September 19-20, 2023 in Bucharest, Romania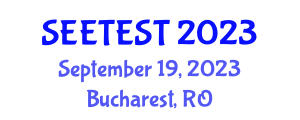 This year the international software testing conference SEETEST will take place on September 19-20, 2023 in Bucharest, Romania and online. Once again we are continuing our hybrid model, to include everyone that wants to learn, even from the comfort of their home.
Every year, the physical location of the conference is rotated between the countries, covered by the conference's organizer, SEETB (South East European Testing Board). Last year we were very excited finally come back to home soil – SEETEST 2022 took place in our home city of Sofia, Bulgaria! In recent years, we also managed to answer the challenges the pandemic created and change our conference model to a Hybrid event.
With two consecutive years of success - first in Belgrade, Serbia in 2021, and then Sofia, it was something very new to us, but last year it yielded a record 720 participants from 25+ countries! This year we will be continuing this format in Bucharest, Romania on September 19-20, 2023.
SEETEST 2023 will once again be held in four tracks. September 19 will start with 8 half-day tutorials from some of the best speakers in the field from around the world. The quality and variety of tutorials and sessions alike is paramount to us at SEETEST, which is why we take selection very seriously – and topics include Agile Testing, Test Automation, AI, Test Management, Security Testing, Mobile Testing, Cloud Testing, and many more.
September 20 will continue with 2 inspiring keynotes, 20 session presentations chosen by the Program Committee in our Call for Papers and 4 industrial slots – great opportunity for companies to showcase their brands. To be part of SEETEST 2023 as a session speaker, you can submit your paper for evaluation by our Program Committee – we encourage all and differing points of view and experiences and guarantee that all submissions will be blind reviewed by at least two members of the Program Committee, on the basis of relevance, originality, importance and clarity to ensure the most balanced and interesting program.
September 18 will serve as a conference warm-up – with several full-day pre-conference courses on various topics of interest, for everybody who wants to dive deeper into the hottest topics of the software testing world.
And of course, our traditional Social Event – held in some of the most beautiful venues of our host cities, a perfect opportunity to kick back, relax after a long day of learning and network in a casual atmosphere. And recharge for the next day!
| Description | Price | Date |
| --- | --- | --- |
| FULL CONFERENCE TICKET - HYBRID | EUR 301.00 | Before March 01, 2023 |
| FULL CONFERENCE TICKET - VIRTUAL ONLY | EUR 98.00 | Before March 01, 2023 |