This event is expired!
Simulation Workshop SW23 on March 27-29, 2023 in Southampton, United Kingdom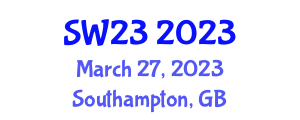 Short Name: SW23
Event Type: Conference
Presentation: Physical
Website URL: http://go.evvnt.com/1398113-0?pid=10008
Contact E-mail: [email protected]
Location: Southampton, United Kingdom
Venue: National Oceanography Centre
Date: March 27-29, 2023
Organization: The Operational Research Society
The OR Society's Simulation Workshop brings together over 100 experts working in the field of modelling and simulation. Hosted at the National Oceanography Centre in Southampton, SW23 will provide an opportunity for practitioners and academics to exchange ideas on the current and future state-of-the-art in modelling and simulation.
Why should you attend?
- A rich programme of keynote presentations with presenters from across the world.
- Panel discussions, parallel streams and tutorials that cover a variety of areas within Simulation.
- Breakout areas to provide an excellent opportunity for networking between sessions.
- A unique gala dinner event which includes a range of entertainment and three course meal.
- An exclusive exhibition area which will feature poster displays
- Access the most up to date developments in simulation software tools which you can utilise.
Registration is now live for the conference, and we would be delighted to see you there! Please click to purchase tickets through the buy ticket link.
Time: 12:00 - 16:00
Prices:
Member Early Registration: GBP 370.00,
New Member Early Registration: GBP 410.00,
Non-Member Early Registration: GBP 440.00,
Retired Registration: GBP 190.00,
Student Registration: GBP 190.00
Name: The Operational Research Society