Pacific-Asia Conference on Knowledge Discovery and Data Mining PAKDD on May 16-19, 2022 in Chengdu, China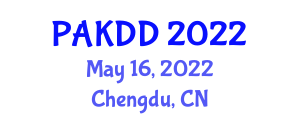 Conference Proceedings:
--Springer will publish the proceedings of the conference as a volume of the LNAI series.
Local Arrangement Co-Chairs:
Yan Yang (Southwest Jiaotong University, China)
Chuan Luo (Sichuan University, China)
Xin Yang (Southwestern University of Finance and Economics, China)
Publicity Co-Chairs:
Xiangnan Ren (Group 42, United Arab Emirates)
Hao Wang (Zhejiang Lab, China)
Junbo Zhang (JD.com, China)
Chongshou Li (Southwest Jiaotong University, China)
Contact Us:
PAKDD 2022 Secretariat:Xiaobo Zhang
Email: [email protected]
Telephone: +86-87555888 / +86-13281280917
* Foundational topics in data mining
* Big data mining/platform
* Data mining on specialized data types: graphs, structured/unstructured/semi-structured data, streaming data, time series, spatial-temporal data, text, multimedia, social networks, etc.
* Data mining in specific disciplines or interdisciplinary topics: biology, agriculture, natural resources (land, water, soil, plants and animals) management, education, open distance learning, ecology, e-government, environmental sciences, finance, healthcare, manufacturing, social sciences, etc.
* Data mining on cloud computing
* Data mining and privacy
* Data mining and security
* Data analysis and mining for new applications: smart devices, smart grids, smart homes, etc.
* Data analytical processing Deep learning models and applications