Optoelectronics Global Conference IEEE-OGC on September 06-09, 2022 in Shenzhen, China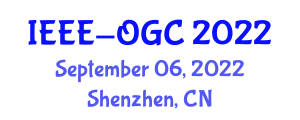 Publication:
Accepted and registered papers will be published by IEEE Conference Publication.
After a careful reviewing process, all accepted papers after proper registration and presentation, will be published in the conference Proceedings by Conference Publishing Services, and reviewed by the IEEE Conference Publication Program for IEEE Xplore.
Special Issue:
Authors of papers presented in this Optoelectronics Global Conference (OGC) and within the scope of Sensors in the field of "Sensing with Infrared and Terahertz Technologies" may submit a technically extended version to the sepcial issue of Sensors. As an open access journal, Sensors has an Article Processing Charge of 2200 CHF for accepted papers.
The Special Issue website can be reached at https://www.mdpi.com/journal/sensors/special_issues/SITT
Sensors (ISSN 1424-8220) is the leading international peer-reviewed open access journal on the science and technology of sensors and applications. Its Impact Factor 2020 is 3.576 and CiteScore 2020 is 5.8. It now ranks 14/64 (Q1) in "Instruments & Instrumentation"; 26/83 (Q2) in "Chemistry, Analytical"; 82/273 (Q2) in "Engineering, Electrical & Electronic" from JCR. Open Access increases visibility of scientific researches. In 2020, Sensors received 15.7 million full text views, see https://www.mdpi.com/journal/sensors/stats.
Program at A Glance:
Sept. 06, 2022
Preregistration & Short Courses
Sept. 07, 2022
Conference Opening, Plenary Talks
Sept. 08, 2022
Technical Sessions & Conference Banquet
Sept. 09, 2022
Technical Sessions & Closing Ceremony
Contact Us:
Rachel Huang
T: +86-28-87555888
M: +86-132 8128 0917
S1. Laser Technology
Topics
Mid-infrared Lasers
Ultrafast Laser Science and Technology
Laser manufacturing
High Intensity Lasers and High Field Phenomena
Quantum Electronics and Laser Science
Quantum Information and Measurement
Biomedical and Therapeutic Laser Applications
Laser Spectroscopy and Microscopy
Fiber Lasers and Applications
Waveguide Lasers
Semiconductor Lasers and LEDs
Plasma Technologies
S2. Optical Communication and Networks
Topics
Integration of Optical and Wireless Networking
Radio over Fiber Technologies
Visible Light and Free-space Optical Communication
Under Water Optical Communications
High-Capacity Coherent Optical Communication
High-Speed Optical Access Technologies
Short-Reach Optical Interconnect for Data Center Networks
Advanced Digital Signal Processing
Optical Modulation and Signal Processing
Lasers and Photonic Components
Space Division Multiplexing Technologies
New Optical Fiber Technologies
Optical Networks Performance Modeling
Emerging Network Architecture in 5G and Edge Computing
Design, Control and Management of Optical Networks
Secure Optical Communication