This event is expired!
International Maritime Defense Exhibition and Conference IMDEC on July 12-13, 2023 in Accra, Ghana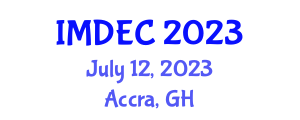 Following the grand success of the first two editions, the 3rd International Maritime Defense Exhibition and Conference (IMDEC) is scheduled to take place on 12- 13 July 2023, Accra, Ghana. IMDEC will feature the largest gathering of Africa's maritime industry, as we host regional and international Chiefs of Naval Staff to address the principal issues facing maritime security on the continent. This biennial gathering will feature a notable two-day conference and exhibition in which the gathered regional Naval Forces and relevant stakeholders will deliberate the increasingly volatile maritime threats facing Africa's territorial waters and its blue economy. IMDEC 2023 will showcase the latest technologies in maritime security and strong resolutions and recommendations to surmount the daunting maritime challenges confronting Africa's blue economy.
Hosted at the Burma Hall in Ghana Armed Forces Headquarters, IMDEC 2023 massive exhibition will host solutions from across the globe to help maritime and naval industries find appropriate solutions to their challenges and threats and discover the new technologies to better fight against and curb illicit activities at sea.
Name: Great Minds Event Management
Website: https://gmevents.ae/
Address: Office 101 Daytona House, Motor City
Headquartered in the UAE and combining over 20 years of event management experience. Serving the biggest names across various sectors. Great Minds Event Management is a leading turnkey event management company offer our clients fully integrated event solutions. Our team of more than 35 experts deliver unparalleled experiences to clients across the Middle East and North Africa. With clients ranging from start-ups breaking into the business world to leading government entities and ministries. Leading the way and shaping the region.
| Description | Price | Date |
| --- | --- | --- |
| Navies, Maritime Authorities, Government Authorities | USD 99.00 | Before July 12, 2023 |
| Suppliers and Solution Providers | USD 2799.00 | Before July 12, 2023 |