International Council on Electrical Engineering Conference ICEE on July 02-06, 2023 in Causeway Bay, Hong Kong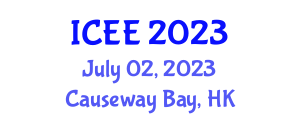 The ICEE Conference 2023 is to be held on 2 to 6 July 2023 in Hong Kong. Jointly organised by the Institute of Electrical Engineers of Japan (IEEJ), the Korean Institute of Electrical Engineers (KIEE) and the Chinese Society for Electrical Engineering (CSEE) and the Hong Kong Institution of Engineers (HKIE), this is the seventh time that the HKIE plays host to this Conference.
The ICEE was founded in 1995 and now the event has become an annual forum for electrical engineers from major players in the Asian economies including Japan, Korea, the Mainland China, Hong Kong and those from Americas and Europe, to share experiences and new ideas through presentations and panel discussions on emerging issues.
Name: The Hong Kong Institution of Engineers
Website: https://hkie.org.hk/icee2023/
Address: 9/F, Island Beverley No 1 Great George Street, Causeway Bay, Hong Kong