International Conference TEBEC on June 26-29, 2023 in Verona, Italy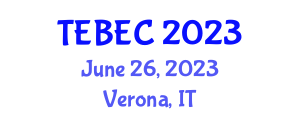 We are pleased to announce the call for papers for the TEBEC International Conference 2022 which will be held in Italy, from June 26-28, 2023. The conference will be organized by TEBEC (Tourism, Economic, Business, education conference).
Given the continued global health emergency of the COVID-19 pandemic, TEBEC 2022 will be held as a hybrid conference (online and offline), and further detailed information will be announced based on the status of COVID-19.
The TEBEC International Conference 2023 goal is to bring together international researchers, government officials and industry practitioners to share their research on the issues related to Media and communication, tourism, Economic, Business, education and social science .
TEBEC is a multidisciplinary conference with the following topics:
• Tourism
• Economics
• Business
• Social Sciences
• Teaching
• Education
• Media and communication
Name: TEBEC
Website: http://tebec.org

TEBEC is a multidisciplinary conference with the following topics, and Media and communication Studies scholars are welcome: • Tourism • Economics • Business • Social Sciences • Teaching • Education • Media and communication