This event is expired!
International Conference on Virtual-Reality Continuum and its Applications in Industry ACM VRCAI on December 10-12, 2022 in Guangzhou, China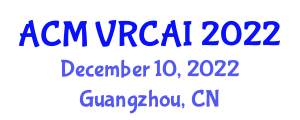 Publication:
All accepted papers and abstracts will be published in the ACM SIGGRAPH VRCAI 2022 Conference Proceedings and included in the ACM digital library (EI-indexed). Selected papers will be published in Computational Visual Media (Springer), Computer Animation and Virtual Worlds (Wiley), Virtual Reality & Intelligent Hardware (Elsevier), Visual Computing for Industry, Biomedicine, and Art (Springer).
Contact us:
Email:[email protected]
Collaborative and Interactive Virtual Environment/VR
Multimodal Interface
Visual Interface
Speech Interface
Haptic/Tactile Interface
Natural Interface
3D Enabled Devices
Interaction Design
Sketch-based interfaces
Social and Interactive Computing and Media
Interactive Graphic Design
Interactive Sound Design
Human Factors and Ergonomics