This event is expired!
International Conference on Science, Engineering and Waste Management BSEWM on December 05-07, 2022 in Barcelona, Spain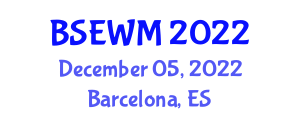 32nd BARCELONA International Conference on "Science, Engineering and Waste Management" (BSEWM-22) scheduled on Dec. 5-7, 2022 Barcelona, Spain is for the engineers, practitioners, scientists, researchers, scholars, and students from all around the world and it also includes the industry people to present ongoing research activities, and hence to foster research relations between Academia and industry. The conference is sponsored by Eminent Association of Pioneers (EAP). This conference provides opportunities for the delegates to share new ideas and application experiences face to face, to establish business or research relations and to find global partners for future collaboration. All the submitted conference papers will be peer reviewed by the program/technical committees of the Conference.
Paper submission on [email protected]
- Agriculture Sciences & Engineering
- Aeronautical Engineering
- Aerospace Engineering
- Agricultural Science & Engineering
- Architecture & Planning
- Audio Engineering
- Automotive Engineering
- Bio mechanical& Biomedical Engineering
- Bio Technology
- Biosciences & Biomedical
- Biological Sciences & Bio system Engineering
- Chassis Engineering
- Chemistry abd Chemical Engineering
- Civil Engineering
- Computer Engineering
- Electrical Engineering
- Electromechanical System Engineering
- Electronics & Communication Engineering
- Electronics Engineering
- Engineering Chemistry
- Engineering Management
- Engineering Mathematics
- Engineering Maths
- Engineering Physics
- Engineering Sciences
- Environment Engineering
- Food Engineering
- Food Technology
- Forensic Engineering
- Forensic Science and Technology
- Forestry Engineering
- Gas Engineering
- Geo Technical Engineering
- Geological Engineering
- Industrial Engineering
- Integrated Engineering
- Manufacturing Engineering
- Marine Engineering
- Materials Engineering
- Mathematics
- Mechanical Engineering
- Mineral & Metallurgical Engineering
- Mining Engineering
- Model Engineering
- Nanotechnology
- Natural Sciences
- Naval Architectural Engineering
- Nuclear Engineering
- Ocean Engineering
- Oil Engineering
- Petroleum Engineering
- Physics
- Production Engineering
- Software Engineering
- Sound Engineering
- Structural Engineering
- System Engineering
- Telecommunication Engineering
- Water Resource Engineering
- Waste Management and its Applications
| Description | Price | Date |
| --- | --- | --- |
| Student Author | EUR 225.00 | Before September 16, 2022 |
| Non-Student Author | EUR 250.00 | Before September 16, 2022 |