International Conference on Robotics and Vision ICRV on September 20-22, 2021 in London, United Kingdom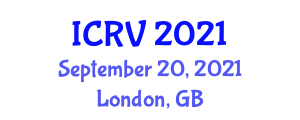 Publication:
Accepted and registered papers will be included in the *ICRV-ACM conference proceedings with ISBN: 978-1-4503-7632-7*
Published papers are expected to be submitted and indexed by *EI Compendex, Scopus, etc main database*. which can be indexed by *Ei Compendex, SCOPUS*, etc.
General Chairs :
Shane Xie, University of Leeds, UK
Chun-Yi Su, Concordia University, Canada
Program Chairs :
Richard Mitchell, University of Reading, UK
Yow Kin Choong, University of Regina, Canada
Jianxiao Zou, UESTC, China
Contacts:
Ms. Jane Li
E-mail: [email protected]
Tel: +861-811-7806403 | +1-669-900-4528
Website: http://www.icrv.org/
Track 1: Robotics
Modeling and identification;
Robot control;
Mobile robotics;
Mobile sensor networks;
Perception systems;
Micro robots and micro-manipulation;
Visual servoing;
Search, rescue and field robotics;
Robot sensing and data fusion;
Localization, navigation and mapping;
Dexterous manipulation;
Medical robots and bio-robotics;
Human centered systems;
Space and underwater robots;
Tele-robotics;
Mechanism design and applications.
Track 2: Vision
Image/video analysis;
Feature extraction, grouping and segmentation;
Scene analysis;
Pattern recognition;
Learning in vision;
Human-computer interaction;
Tracking and surveillance;
Biometrics;
Biomedical Image analysis;
Activity/behavior recognition;
Applications.