This event is expired!
International Conference on Pure and Applied Mathematics ICPAM on July 20-22, 2022 in Bratislava, Slovakia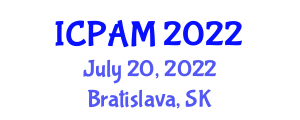 Publication:
Submitted paper will be peer reviewed. All accepted papers will be published into ICPAM 2022 conference proceedings IOP-Journal of Physics: Conference Series (JPCS), which will be indexed by EI Compendex, Scopus, etc.
Selected papers will be published into International Journal of Applied Physics and Mathematics (IJAPM), ISSN: 2010-362X, which is indexed by Copernicus, EI (INSPEC, IET), Chemical Abstracts Services (CAS), Electronic Journals Library, Nanowerk Database, Google Scholar and ProQuest etc.
Agenda Overview:
July 20, 2022 | Wednesday | Sign in and collect conference materials at lobby
July 21, 2022 | Thursday | Keynote Speeches&Plenary Speeches&Technical Sessions
July 22, 2022 | Friday | Technical Sessions&Award Banquet
Contacts:
Conference Secretary:Ms. Hedy Huang
Email: [email protected]
Tel: +1-562-606-1057 (USA, International) | +861-820-7777775 (Chinese)
Applied Partial Differential Equations
Applied Mathematics
Approximation Theory
Computational Physics
Mathematical Biology