International Conference on Neuroscience and Psychiatry ICNP on February 09-11, 2023 in Paris, France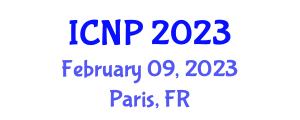 With a grand success of Neuroscience 2022,
We welcome you all to attend the"2nd International Conference on Neuroscience and Psychiatry (ICNP-2023)" scheduled during February, 09 -11, 2023 at Paris, France. The main theme of the conference is "Heal the world of Neuroscience and Psychiatry". Join this intimate forum to create meaningful partnerships with 50+ Neuroscience experts. Translate key technological & mechanistic neuroscience advances into the clinic.
Our goal is to bring together worldwide distinguished academics in the field of Neuroscience and Psychiatry to exchange and share meaningful experiences of various treatment procedures for mental health, neurological disorders and stroke.
Neuroscience 2023 Mission: To provide the highest quality neuroscience and psychiatry education to learners and practitioners of all levels.
Neuroscience 2023 Vision: Through our inspiring international faculty, innovative programming, and vibrant interactions among all attendees, Neuroscience 2023 conference aspires to be the best neuroscience and psychiatry educational event in the world.
Regards
Ryan Matthew
Programming Committee | Neuroscience 2023
Conference Highlights:
Neuroscience and Neurology·Psychiatry
·Neuroimmunology
·Child and Adolescent Psychiatry
·Psychology and Mental Health
·Paediatric Neurology
·Adult Neurogenesis and Cell Biology
·Neuroinfections and Neuroinflammation
·Neuropharmacology and Neuroendocrinology
·Alzheimer Disease, Ageing and Dementia
·Stroke and Trauma
·Neurosurgery
·Brain and Neurological Disorders
·Neuroimaging and pathology
·Neurotherapeutics, Diagnostics and Case studies
·Neurological Complications of COVID_19
Name: pulsus

Pulsus Group is an internationally renowned peer-review publisher in scientific, technical, and medical journals established in the year 1984 with offices in Ontario, Canada and Hyderabad, India has acquired Andrew John Publishing and openaccessjournals.com to expand its Open Access Publishing through its 50+ journals in association with 20+ International medical and scientific societies.
| Description | Price | Date |
| --- | --- | --- |
| Only Registration | EUR 1099.00 | Before August 31, 2022 |
| Registration + Stay 3 Nights | EUR 1399.00 | Before August 31, 2022 |
| virtual presentation | EUR 799.00 | Before August 31, 2022 |