This event is expired!
International Conference on Latest Trends in Science and Technology LLTST on December 12-14, 2022 in Lisbon, Portugal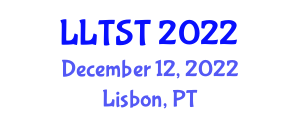 The idea of 2022 LISBON 37th International Conference on "Latest Trends in Science and Technology" (LLTST-22) scheduled on Dec. 12-14, 2022 Lisbon (Portugal) is for the researchers, scientists, scholars, engineers and parctitioners from all around the world to present and share ongoing research activities. This conference provides opportunities for the delegates to exchange new ideas and application experiences face to face, to establish business or research relations and to find global partners for future collaboration.
LLTST-22 is Organized by Excellence in Research & Innovation Group.
Presentation Options:
Oral Presentation at Conference Venue (in Physical Presence)
Poster Presentation at Conference Venue (in Physical Presence)
ONLINE (video presentation with WhatsApp/viber/Skype)
OFFLINE (creating PowerPoint presentation without/with recorded voice for conference participants)
All full paper submissions will be peer reviewed and evaluated based on originality, technical and/or research content/depth, correctness, relevance to conference, contributions, and readability. One Best Presenation Award from each session will also be distributed at the time of the conference.
All registered papers will be online at ISBN DOI Indexed Conference Proceedings OR the following DOI-Crossref Indexed ISSN journals.
OPTIONAL: All registered papers can be published online in the SCOPUS Indexed Journal with additional charges.
All accepted papers of LLTST-22 will be published in the printed conference proceedings with valid International ISBN number. Each Paper will be assigned unique Digital Object Identifier (DOI) from CROSSREF and the Proceedings of the Conference will be archived in EIRAI's Engineering & Technology Digital Library. The paper can also be published in ELSEVIER SCOPUS Indexed journal with additional charges. In addition the proceedings will be indexed at all major search engines.
English is the official language of the conference. We welcome paper submissions. Prospective authors are invited to submit full (and original research) papers (which is NOT submitted or published or under consideration anywhere in other conferences/journal) in electronic (DOC or PDF) format alongwith the contact information.
SUBMISSION METHODS
1. Email: [email protected]
Track 1: Architecture/ Civil Engineering/ Electrical Engineering/ Mechanical Engineering
Design and Manufacturing Engineering - Materials Science and Engineering - Mechatronics and Automation - Industrial and Systems Engineering - Textile and Leather Technology - Automobile Engineering - Production Technology - Aviation Technology - Avionics, Modern Trends in Civil Engineering - Building Energy Conservation and Green Architecture - Bridge and Tunnel Engineering - High-rise Structure and Large-span Structure - Municipal Engineering - Town Planning - Water Resource Engineering - Transportation Engineering - Geotechnical Engineering, Electric Drives and Control - Power Generation, Transmission and Distribution - Smart Grids Technologies and Applications - Renewable Energy - Renewable Power Generation and its Efficient Utilization - Electricity Market in Smart Grid - Power System Engineering and its applications - Electrical Machines - Instrumentation Engineering, Conservation, Architecture Design and Planning, - Other related areas
Track 2: Computer Science Engineering/Information Technology/ Electronics and Communication Engineering
Data Mining - Expert Systems and Artificial Intelligence - Digital Signal Processing - Multimedia Signal Processing - Image Processing and Pattern Recognition - Networking - Robotics - Information and Communication - Optical and Wireless Communications - Internet Technologies - Ad-Hoc and Mobile Communications - Wireless Sensor Networks - Concurrent, Distributed and Parallel Computing - System Modeling and Simulation - Soft Computing - Optimization Algorithms - Embedded Systems - VLSI and Digital System Design - Cloud Computing - Antenna and Electromagnetic - Bioinformatics - Biomedical -Control Systems - Other related areas
Tracks 3: Science and Public Health
Chemistry, Polymer, Polymers and Plastic, Ecology, Pollution, Oceanography, Waste Management, Earth Sciences, Biomedical, Genetics, Soil, Water, Water Management and Waste Sanitation and Hygiene and Other related areas
| Description | Price | Date |
| --- | --- | --- |
| Student | EUR 200.00 | Before September 30, 2022 |
| Non-Student | EUR 250.00 | Before September 30, 2022 |