This event is expired!
International Conference on Innovative Inventions in Engineering and Technology ICIIET on February 12, 2023 in Hyderabad, India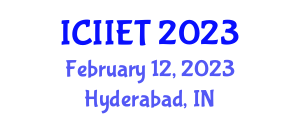 The ICIIET- 2023 is the International conference organized by NRISET Hyderabad . The objective of ICIIET- 2023 is to light the fire of technological research -All Branches: Engineering, Science & Technology, Management. The organizing committee of the conference is pleased to invite prospective authors to submit their original manuscripts to the ICIIET– 2023. All full paper submissions will be peer-reviewed and evaluated based on originality, technical and depth, correctness, relevance to conference, contributions, and readability. Paper-ID will be provided to each paper for further reference after selecting it.
B.E or B.Tech (per Article or Paper 1700/-)
M.Tech (per Article or Paper 2200/-)
Research Scholar ( per Article or Paper 2400/-)
Academician (per Article or Paper 2500/-)
Listener (per Author 1400/-)
Foreigner ( per Article or Paper $200)
UGC Care Journal online :10000/-
Google Indexing Journal(2000/-)
Best Paper Award And Best Presentation Award
Conference Proceedings with ISBN
All Co-Authors should get E-Certificates
We will Providing Conference E- Proceeding for Each Author
Registered Articles's Paper-IDs will be uploaded on our website as per the allotted "Paper ID"