International Conference on Environment, Energy and Biotechnology ICEEB on July 21-23, 2023 in Jeju City, Republic of Korea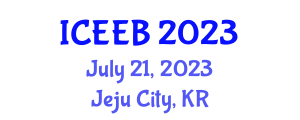 Paper Publishing:
Option A: Journal of Environmental Science and Development (IJESD, ISSN:2010-0264), and all accepted papers will be indexed by Scopus (Since 2019) and included in the Chemical Abstracts Services (CAS), CABI, Ulrich Periodicals Directory, Electronic Journals Library, Crossref, ProQuest.
Option B: International Journal of Smart Grid and Clean Energy (IJSGCE, ISSN: 2315-4462, DOI: 10.12720/sgce), and will be indexed by CNKI, Google Scholar, Crossref, etc.
Option C: International Journal of Pharma Medicine and Biological Sciences (IJPMBS, ISSN: 2278-5221), and all papers will be indexed by Embase; ProQuest; International Committee of Medical Journal Editors(ICMJE); Health sciences library(NYU); HINARI Access to Research in Health Programme; etc.
Conference Chairs :
Jae K. Park, University of Wisconsin-Madison, USA
Jinkeun Kim, Jeju National University, Jeju, Korea
Program Chairs :
Yu Hong, Beijing Forestry University, China
Miwako Hosoda, Seisa University, Tokyo, Japan
Contact Methods:
E-mail: [email protected]
Conference Specialist: Ms.Vera Liao
Environmental dynamics
Meteorology
Hydrology
Geophysics
Atmospheric physics
Physical oceanography
Global environmental change and ecosystems management
Climate and climatic changes
Global warming
Ozone layer depletion
Carbon capture and storage
Biofuels
Integrated ecosystems management
Satellite applications in the environment
Environmental restoration and ecological engineering
Habitat reconstruction