International Conference on Educational Technology ICET on July 14-16, 2023 in Xi'an, China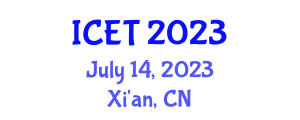 Conference Proceedings:
The submission will be under a careful reviewing process, all accepted papers after double-blind peer review with proper registration and presentation, will be collected in the IEEE conference proceedings, and then reviewed and included in IEEE Xplore, indexed by Ei Compendex, and Scopus, etc. major databases.
Special Issue:
The Program Committee will select the best papers from the conference registered papers and ask authors to extend the papers. The papers will be published in the special issue as follows:
Education Sciences (ISSN 2227-7102)
High visibility: Scopus, ESCI (Web of Science), ERIC, Educational Research Abstracts, and many other databases.
Conference Program:
Day 1 - 14 July, 2023-Sign-in for ICET 2023
Day 2 - 15 July, 2023-Openning Remarks & Keynote Speech & Participants' presentations
Day 3 - 16 July, 2023-Parallel Sessions
Contact Us:
Conference Secretary: Kylin Jia
Email: [email protected]
Track 1: Innovation in Teaching & Learning
Methods, Teaching and Learning Experiences
Mathematics & Natural Sciences
Learning Models for Engineering/Computer Science/Informatics Education
21st. Century Skills Development
Adult and Lifelong Learning
Track 2: Technology-Enhanced Learning in the Digital Era
Infrastructure and Digital Technologies /ICT Applications
Online Learning
Distance Learning
Massive Open Online Courses (MOOCs)
Smart Classroom
Social Media Technics
Computing Aided Learning
Multimedia Technology in Education
Virtual and Remote Labs
Artificial Intelligence in Education
Ethics of Using Information Technology
X-Reality and Immersive Learning Environments
Open Learning Resources
Blockchain in Education
Track 3: Integrating Educational Technologies
Social Media and Social Networking
The Semantic Web 3.0
Podcasting for Broadcasting Video Lectures
Podcasting Feedback to Students
Wiki and Blogs in Higher Education
Mobile, Virtual and Vicarious Learning
Simulations and Modeling