This event is expired!
International Conference on Educational and Information Technology ICEIT on January 06-08, 2022 in Chengdu, China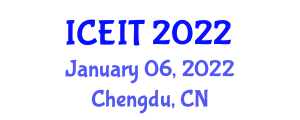 Publication:
Accepted papers will be published into conference proceedings by IEEE, which is the same with the last years.
The proceedings will be submitted and reviewed by the IEEE Xplore and Ei Compendex and Scopus after the conference.
ICEIT 2022 is listed in IEEE Conference Calendar: https://conferences.ieee.org/conferences_events/conferences/conferencedetails/54416
Conference Schedule:
January 6, 2022---Registration,collecting conference materials.
January 7, 2022---Openning Remarks, Keynote Speech and Group Photo, Parallel Sessions (Oral/Poster)
January 8, 2022---Parallel Sessions
Contact:
Ms. Gretchen Liu (Conference Secretary)
E-mail: [email protected]
Tel: +86-182-1565-4293
Wechat: iconf-cs (remark ICEIT 2022)
• Artificial Intelligence in Education
• Computer Application
• Database Technology
• Digital Libraries
• Image processing
• Information Systems Applications (incl.Internet)
• Intelligent Tutoring Systems
• Learning Management Systems (LMS)
• Mobile Applications and Learning
• Software Engineering
• User Interfaces and Human Computer Interaction
• Virtual and Augmented Reality
• Virtual Classrooms and Labs