This event is expired!
International Conference on Control, Robotics Engineering and Technology CRET 2023 on December 07-09, 2023 in Paris, France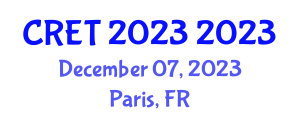 Proceedings:
Submitted paper will be peer reviewed by conference committees. Accepted papers will be included into CRET 2023 Conference Proceedings, which will be submitted for indexing to Ei Compendex and Scopus.
Conference schedule:
December 7th, 2023 | Registration,collecting conference materials
December 8th, 2023 | Opening Remark & Keynote Speeches & Presentation Sessions & Dinner Banquet
December 9th, 2023 | Invited Speeches & Parallel Sessions
Contact us:
Sharon Liu (Conference Secretary)
E-mail: [email protected]
Tel: +86-18117807842 (Chinese) / +001-559-8624927 (English)
★Control Science and Engineering
* Adaptive Control
* Adaptive Signal Processing and Control
* Biological Inspired Sensors
* Complex Systems
* Computer and Microprocessor-Bzcations
* Control Engineering Education
* Control of Biological Systems
* Co-Operative Control
* Discrete Event Systems
★Robotics Engineering and Technology
* Autonomous Agents
* Cognitive Approach for Robotics
* Collective and Social Robots
* Control and Supervision Systems
* Dexterous Manipulation
* Engineering Applications
* Human Centered Systems
* Human-Machine Interfaces
* Humanoid Robots