International Conference on Control, Robotics and Cybernetics CRC on October 16-18, 2020 in Wuhan, China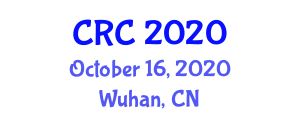 Publication:
Accepted papers will be published in CRC 2020 conference proceedings. The proceedings will be submitted and reviewed by the Online Xplore and Ei Compendex and Scopus after the conference.
Agenda Overview:
October 16, 2020 Registration & Material Collecting
October 17, 2020 Openning Remarks & Keynote Speech & Author Presentation(Oral/Poster)
October 18, 2020 Academic Visit/One Day Visit
Contact Us:
Conference Secretary: Ms. Quinn Yan
E-mail: [email protected]
Tel: +86-28-63023585
Modern Advanced Control Strategies :
Neural Networks Control
Fuzzy Logic Control
Genetic Algorithms & Evolutionary Control
Model-Predictive Control
Adaptive and Optimal Control
Intelligent Control Systems
Robotics and Automation
Fault Diagnosis
Intelligent agents
Industrial Automations.