International Conference on Consumer Electronics and Devices ICCED on May 19-21, 2023 in Suzhou, China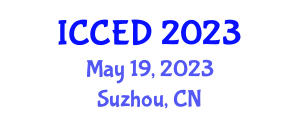 Publication:
As the workshop of ICCSS 2023, all accepted papers after proper registration and presentation, will be published in the ICCSS 2023 Conference Proceedings as a special chapter, and submitted for Ei Compendex and Scopus index.
After conference, some selected papers, after content extension (at least 40%) and peer-review, will be recommended to be published in IEEE Transaction on Electron Devices as regular papers. The journal information is as follows.
ISSN: 0018-9383
Impact Factor: 2.913
Abstracted and indexed in: Science Citation Index, Science Citation Index Expanded, etc.
Conference Schedule:
May 19, 2023 | 10:00 am - 6:00 pm: Check in and Conference Materials Collection
May 20, 2023 | 8:45 am - 12:00 pm: Opening Remarks & Keynote Speeches
May 20, 2023 | 2:00 pm - 6:00 pm: Invited Speech & Authors' Oral Presentations
May 21, 2023 | 9:00 am - 5:00 pm: Invited Speeches & Authors' Oral Presentations & Closing Ceremony
Contact:
Ms. Slyvia Chan(Conference Secretary)
Email: [email protected]
Topics of interest for submission include, but are not limited to:
*Lighting & Display Technologies
*Flexible Electronics
*Automotive Entertainment & Information
*AV Processing & Streaming
*Embedded Technologies