This event is expired!
International Conference on Computing and Big Data ICCBD on October 27-29, 2023 in Shanghai, China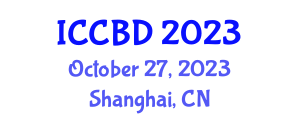 Conference Proceedings Publication:
The accepted papers will be published in the ICCBD 2023 conference proceedings. At least one author of accepted papers is required to participate in this year's conference and make a presentation.
Conference Program:
Day 1 - 27 October, 2023-Sign-in for ICCBD 2023
Day 2 - 28 October, 2023-Openning Remarks & Keynote Speech & Participants' presentations
Day 3 - 29 October, 2023-Acdemic Tour and Walking Tour of the City
Contact Us:
Conference Secretary: Ms. Kate Hou
Email: [email protected]
Tel : +86-15102825034 (China)
Big Data Analytics:
Novel Theoretical and Computational Models
Framework for Data Understanding and Quality
New Data Standards and Programming Models
Infrastructure, Architecture and Platform
Big Data Management and Application
Big Data Science and Engineering:
Big Data in Smart Planet Solutions
Big Data Open Platforms
Big Data Persistence and Preservation
Big Data Quality and Provenance Control
Big Data Toolkits