International Conference on Computer Technologies and Development ICCTD on October 16-18, 2022 in Barcelona, Spain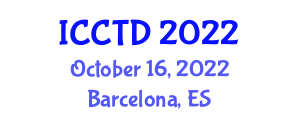 Publication:
Submissions will be sent to at least two conference committee members for peer review. Accepted, registered, and presented papers will be published by IEEE Conference Publishing Services (CPS), and submitted to IEEE Xplore for abstracting and indexing by Ei Compendex, Scopus, etc.
A few set of extended papers will be recommended to International Journal of Future Computer and Communication, and accepted papers will be published free of charge after review, which will be indexed by Crossref, Electronic Journals Library, Inspec, Google Scholar, EBSCO, etc.
Please feel free contact with us:
Yoyo Zhou (Conference Secretary)
E-mail: [email protected]
· Computer Organizations and Architectures
· Operating Systems, Software Systems, and Communication Protocols
· Real-time Systems, Embedded Systems, and Distributed Systems
· Digital Devices, Computer Components, and Interconnection Networks
· Specification, Design, Prototyping, and Testing Methods and Tools
· Artificial Intelligence, Algorithms, Computational Science
· Performance, Fault Tolerance, Reliability, Security, and Testability
· Case Studies and Experimental and Theoretical Evaluations
· New and Important Applications and Trends