This event is expired!
International Conference on Blockchain and Trustworthy Systems BlockSys on August 04-05, 2022 in Chengdu, China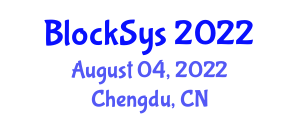 Publications:
All accepted and presented papers will be published by Springer in the Communications in Computer and Information Science (CCIS) series, and will be indexed by EI Compendex. Distinguished papers (more than 30 papers) presented at the conference, after further revision, will be published in special issues of selected journals.
General Chairs:
Yan Zhang, University of Oslo
Danny Tsang, HKUST
Program Chairs:
Yin Zhang, University of Electronic Science and Technology of China
Davor Svetinovic, Vienna University of Economics and Business
Xiapu Luo, The Hong Kong Polytechnic University
Contact:
If you have any question about BlockSys'2022,
Please email to conference contact ([email protected]).
Blockchain
– Theories and algorithms for Blockchain
– Smart contracts for Blockchain
– Security, privacy and trust for Blockchain
– Blockchain based systems, service and application
– Privacy computing based on blockchain
Privacy Computing
– Theories and foundations for privacy computing
– Parallel, distributed and scalable modelling for privacy protection
– Privacy quantification, formal description, operation and modelling
– Context adaptive cryptology for privacy protection
– Privacy-preserving data processing and machine learning
– Private information exchange and sharing models
– Applied cryptography in privacy computing