This event is expired!
International Conference on Big Data ICBD on January 04-06, 2023 in Guiyang, China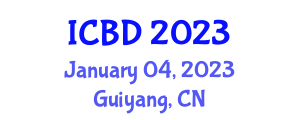 Publication:
All accepted papers must be written in English and will be published into ICBD 2023 Conference Proceedings. The Conference content will be submitted for inclusion into Online Xplore and indexed by Ei Compendex and Scopus.
Conference Schedule:
Day 1, January 4, 2023 10:00 – 17:00 Registration,collecting conference materials
Day 2, January 5, 2023 09:00 – 18:00 Opening Remark & Keynote Speeches & Parallel Sessions
Day 3, January 6, 2023 09:00 – 17:00 Parallel Sessions
Contact:
Ms. Gretchen Liu (Conference Secretary)
E-mail: [email protected]
Tel: +86-182-1565-4293
Wechat: iconf-cs-1 (send ICBD 2023)
Track 1 - Big Data Architecture and Systems
Algorithmic, experimental, prototyping and implementation
Big Data Algorithms, Applications and Services
Structured and Unstructured Data/Text/Web Mining
Track 2 - Data Security and Management
Privacy and Security for Cloud and Big Data
Big Data Analysis Encryption
Big Data Analysis Management
Track 3 - Big Data Analysis and Computing
Data Visualization and Visual Analytics
Evolutionary and Bio-inspired approaches for Big Data analysis
Computing, scheduling and resource management for sustainability
Cloud Computing Solutions and Platforms
Track 4 - Big Data Science and Applications
Representation Formats for Multimedia Big Data
New domains and novel applications related to Big Data technologies
Scientific Applications of Big Data
Track 5 - Blockchain Theory and Application Technology
Blockchain based lightweight data structures for IoT data
Blockchain based IoT security solutions
Blockchain in cyber physical systems