International Conference on Big Data and Education ICBDE on June 16-18, 2023 in Jinan, China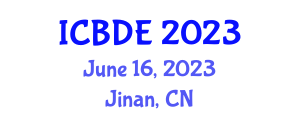 Conference Proceedings:
We welcome and encourage the submission of high-quality, original papers, which are not being submitted simultaneously for publication elsewhere. ICBDE 2023 welcomes submission of papers concerning any branch of the Big Data and Education, and their applications ineducation, and other subjects. The subjects covered by the ICBDE 2022 include Big Data Applications, Big Data Algorithms, E-learning, Online Education, Digital Classrooms, Big Data Mining and Analytics and so on.
Accepted papers of ICBDE 2023 after proper registration and presentation will be published in the ICBDE 2023 conference proceedings.
Conference Program:
Day 1-June 16, 2023-Registration & Material Collecting
Day 2-June 17, 2023-Opening Remarks & Keynote Speeches & Authors' Presentations
Day 3-June 18, 2023-Invited Speeches & Author's Presentations
Contact Us:
Conference Secretary: Ms. Curry Lin
Email: [email protected]
Tel : +86 13668294879 (China)
Empirical research in STEM education
Approaches and methodologies for STEM education research
Innovative pedagogies and curricula in STEM education
Interdisciplinary and transdisciplinary STEM education
STEM education: exploring the role of arts in STEM
Teaching and learning of STEM in school classrooms and other educational settings
STEM education and social issues
STEM education and the environment
Policy matters in STEM education
Assessment and evaluation in STEM education
Comparative studies in STEM education
Technology-enhanced STEM education and STEM teacher education
STEM education and industry partnerships
STEM Teacher Education and professional development
STEM education in informal contexts