International Conference on Artificial Intelligence ICOAI on July 06-08, 2023 in Paris, France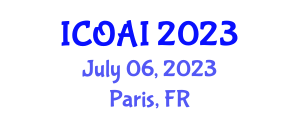 Publication:
All papers will be strictly double blind reviewed by the program committee and reviewers, and accepted papers after proper registration and presentation will be published in one of the following Journals based on the topic of paper. Welcome you to submit the paper by Online Submission System.
1: International Journal of Mechanical Engineering and Robotics Research
IJMERR, ISSN: 2278-0149 (Online)
Abstracting/Indexing: Scopus, CNKI, Google Scholar, Crossref, etc.
2: International Journal of Machine Learning
IJML, ISSN: 2972-368X
Abstracting/Indexing: Inspec (IET), Google Scholar, Crossref, ProQuest, Electronic Journals Library, CNKI.
Conference Schedule:
Day 1 | July 6, 2023
10:00--17:00: Online Test
Day 2 | July 7, 2023
9:30--9:35: Opening Remarks
9:35--12:30: Keynote & Invited Speeches
12:30--14:00: Lunch
14:00--19:45: Oral Presentation Sessions 1-4
Oral Presentation Sessions 5-8
Day 3 | July 8, 2023
10:00-12:00: Invited Speeches
13:30--18:00: City Tour
Contact Us:
Conference Secretary: Ms. Yolanda Dong
Email: [email protected]
Tel: +86-18080013977
- Agent-based Systems
- Ant Colony Optimization
- Approximate Reasoning
- Artificial Immune Systems
- Artificial Intelligence in Modeling and Simulation
- Artificial Intelligence in Scheduling and Optimization
- Artificial Life
- Bioinformatics and Computational Biology
- Brain-Machine Interfaces
- Cognitive Systems and Applications
- Collective Intelligence
- Computer Vision
- Data Mining
- Differential Evolution
- Evolutionary Data Mining
- Evolutionary Design
- Evolutionary Scheduling
- Expert Systems
- Fuzzy Computing With Words
- Fuzzy Control and Intelligent Systems
- Fuzzy Decision Making and Decision Support Systems
- Fuzzy Logic and Fuzzy Set Theory
Name: International Association of Computer Science and Information Technology
Website: http://www.iacsit.org/