This event is expired!
International Conference on Agriculture, Biology, Environment & Natural Sciences ABENS on September 20-22, 2022 in Barcelona, Spain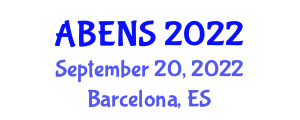 The idea of 30th BARCELONA International Conference on "Agriculture, Biology, Environment & Natural Sciences" (ABENS-22) scheduled on Sept. 20-22, 2022 Barcelona (Spain) is for the researchers, scientists, scholars, engineers and practitioners from all around the world to present and share ongoing research activities. This conference provides opportunities for the delegates to exchange new ideas and application experiences face to face, to establish business or research relations and to find global partners for future collaboration.
Presentation Options:
Oral Presentation at Conference Venue (in Physical Presence)
Poster Presentation at Conference Venue (in Physical Presence)
ONLINE (video presentation with WhatsApp/viber/Skype)
OFFLINE (creating PowerPoint presentation without/with recorded voice for conference participants)
All registered papers will be online at ISBN DOI Indexed Conference Proceedings OR in the ISSN journals.
SCOPUS / World of Science-ESCI Indexed Journals (OPTIONAL): All registered papers can be published online in the SCOPUS or World of Science-ESCI Indexed Journal with additional charges.
ABENS-22 is sponsored by Higher Education and Innovation Group (HEAIG).
All full paper submissions will be peer reviewed and evaluated based on originality, technical and/or research content/depth, correctness, relevance to conference, contributions, and readability. One Best Presenation Award from each session will also be distributed at the time of the conference
All accepted papers of ABENS-22 will be published in the printed conference proceedings with valid International ISBN number. Each Paper will be assigned unique Digital Object Identifier (DOI) from CROSSREF and the Proceedings of the Conference will be archived in HEAIG's Engineering & Technology Digital Library. The Proceeding will be also submitted to SCOPUS/ISI Thomson for review. In addition the proceedings will be indexed at all major search engines.
English is the official language of the conference. We welcome paper submissions. Prospective authors are invited to submit full (and original research) papers (which is NOT submitted or published or under consideration anywhere in other conferences/journal) in electronic (DOC or PDF) format alongwith the contact information.
SUBMISSION METHODS
1. Email: [email protected]
Environmental Science
Aquaculture
Food Engineering
Environmental Engineering and Technology
Earth Sciences
Ecology
Oceanography
Water
Waste Management
Agricultural Science
Agriculture Science and Technology
Agriculture Economics
Food Science
Food Processing
Food and Nutrition
Soil
Biological Science
Biology,
Biotechnology
Cellular & Molecular Biology
Biodiversity
Genetic Engineering
Cell and Microbiology
Pharmaceutical Sciences
Medical Sciences
Genetics
Life Sciences
HEALTH AND MEDICINE Sciences
Alternative Health
Asthma
Blood Pressure
Brain & Nervous System
Cancer
Cardiology
Children's Health
Cholesterol
Cold & Flu
Dentistry
Depression
Dermatology
Diabetes
Digestive Disorders
Disability and Rehabilitation
Ear, Nose & Throat Conditions
Eye Health
Family Medicine
First Aid & Emergencies
Food Safety
Gastroenterology
Gerontology
Headaches & Migraines
Health
Healthy Living
Heart Health
Heartburn & GERD
Infections
Infectious diseases
Lung Disease & Respiratory Health
Medical ethics
Medicine and Medical Science
Men's Health
Mental Health
Neurology
Nursing
Nutrition and Dietetics
Oncology
Oral Health
Osteoporosis
Pain Management
Palliative Care
Pregnancy
Psychiatry
Public Health
Radiology
Sexual Health
Skin Conditions & Beauty
Sleep Disorders
Surgery
Thyroid & Metabolism Conditions
Women's Health
| Description | Price | Date |
| --- | --- | --- |
| Student Author | EUR 225.00 | Before May 31, 2022 |
| Non-student Author | EUR 250.00 | Before May 31, 2022 |