This event is expired!
International Conference on Advanced Materials and Equipment Manufacturing IOP AMEM on February 17-18, 2023 in Nanjing, China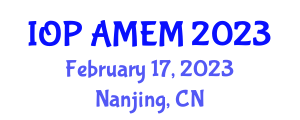 Short Name: IOP AMEM
Event Type: Conference
Presentation: Hybrid
Website URL: http://amem.iaast.cn/
Contact E-mail: [email protected]
Location: Nanjing, China
Venue: Nanjing
Date: February 17-18, 2023
Final Submission: January 15, 2023
Notification: February 05, 2023
Organization: The International Association of Applied Science and Technology (IAAST)
Published by IOP, indexed by EI Compendex.
Please submit your paper via email: [email protected]
General Chair:
Mark James-Jackson, Professor, Kansas State University, USA.
KEYNOTE SPEAKERS:
Osman Adiguzel, Professor, Firat University, Turkey.
Elias C. Aifantis, Professor, Aristotle University of Thessaloniki, Greece.
Danilo Avola, Assistant Professor, IEEE Senior Member, Sapienza University of Rome, Italy.
Jerry Chun-Wei Lin, Professor, ACM/IEEE Member, Western Norway University of Applied Sciences, Bergen, Norway.
AMEM2022 is a technical congregation where the latest theoretical and technological advances are presented and discussed. We sincerely welcome authors to submit your research to AMEM2022, and share the valuable experiences with the scientists and scholars around the world.
Contributions are sought in the following areas:
1) Advanced Materials
2) Equipment Manufacturing
Non-ferrous metal materials
Engine manufacturing
Composite materials
Green manufacturing
Micro/Nano materials
Embedded systems
Optical/Electronic/Magnetic materials
Laser processing
New functional materials
Powder metallurgy
New building materials
Power and fluid machinery
New energy materials
Intelligent control technology
Environmentally friendly materials
Surface engineering/Coating technology
Biomaterials
Advanced NC techniques and equipment
Polymer materials
Microelectronic packaging technology and equipment
Smart materials
Measurement and control technology
Renewable materials
Marine and offshore engineering
Materials science and engineering
Aviation equipment manufacturing
Advanced materials processing
Automobile manufacturing
Advanced manufacturing production mode


Name: The International Association of Applied Science and Technology (IAAST)

| Description | Price | Date |
| --- | --- | --- |
| Author (Regular) | USD 500.00 | Before February 05, 2023 |
| Author (Student) | USD 450.00 | Before February 05, 2023 |
| Listener (Regular) | USD 400.00 | Before February 05, 2023 |
| Listener (Student) | USD 380.00 | Before February 05, 2023 |