International Conference KRMIVA on May 31-June 02, 2023 in Opatija, Croatia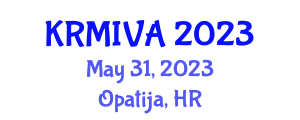 Short Name: KRMIVA
Event Type: Conference
Presentation: Physical
Website URL: http://www.krmiva.hr
Contact E-mail: [email protected]
Location: Opatija, Croatia
Venue: AMBASADOR Hotel
Date: May 31-June 02, 2023
Final Submission: March 31, 2023
Notification: May 15, 2023
Organization: KRMIVA
KRMIVA 2023
The 28th International Conference on feeding domestic animals and technology for the production of compound feed and premixes.
The Conference concept is designed to present and enable the incorporation of new knowledge and technologies in domestic animal feeding and breeding into daily practice. The KRMIVA 2023 Conference program is split into several sections: Domestic animal feed additives, micro and macro elements, and nutrients; Alternative nutrient sources in domestic animal feeding; The impact of feeding on animal performance and health, as well as the quality of animal products; Animal feeding and breeding legislation; Making fodder mixtures technology; Compound feed, raw materials and feed mixture analysis; Modern livestock production technologies; Other issues related to the Conference's main aims.
The best experts from Croatia and around the world will share their knowledge, the results of the most up-to-date recent studies, and good practice examples at the Conference in order to together influence positive changes in animal production. Some of the topics will deal with environmental guidelines and with recommendations for the welfare of domestic animals in order to make it easier for you to stay up with worldwide trends. The previous 27 Conference's knowledge aided many animal feed producers and domestic animal breeders, so it enabled new research that will continue to assist us in modern animal production in the future. Companies, scientific institutions, national institutions, and all interested parties are invited to participate in the conference. We are convinced that the most recent information will be very valuable, both for practical implementation and for scientific work.
The Conference established itself as a prestigious event for feeding and livestock production experts, as well as all other interested parties from Croatia and around the world. This is unmistakable proof of the top standard of our Conference and demonstrates the importance of bringing together professionals from various branches of animal production.