This event is expired!
International Conference & Exhibition on Advanced & Nano Materials ICANM on August 21-23, 2023 in Vancouver, Canada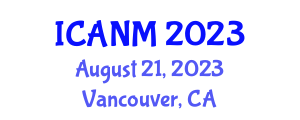 The ICANM conference and exhibition is designed to promote information exchange among scientists, technologists, engineers, entrepreneurs and exhibitors involved in materials science, specifically in the area of Advanced and Nano materials.
ICANM offers the unique opportunity to share your research work and refresh your knowledge. It also provides an excellent platform to meet existing colleagues and to greet new delegates.