This event is expired!
Global Experts Meet On Surgery and Anesthesia GEMSA on March 24-26, 2023 in Paris, France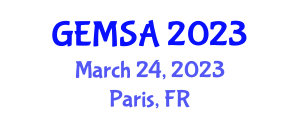 Mscholar Conference privileged to invite all surgeons and anaesthetics from all-over the world in the different subspecialities to join us and participate at our first edition of Global Experts Meet on Surgery and Anesthesia (GEMSA-23) which will be Organized in the most beautiful city Paris, France during March 24-26, 2023
In our Three day meeting, we have allowed ample time for discussion, including small group networking sessions. At this gathering we provide a platform for the researchers, with new developments to come to the forefront.
General Surgery
Cardiac Surgery
Neurosurgery
Vascular Surgery
Plastic and Reconstructive Surgery
Robotic Surgery
Pediatric Surgery
Surgical Oncology
Oral and Maxillofacial Surgery
Bariatric Surgery
Colon and Rectal Surgery
Abdominal Surgery
Laparoscopic Surgery
Pancreas Surgery
Obstetrics and Gynecological Surgery
Orthopedic Surgery
Ophthalmological Surgery
Minimally Invasive Surgery
Thoracic Surgery
Emergency Surgery
Transplant Surgery
Otolaryngology Surgery
Gastrointestinal Endoscopic Surgery
Anaesthesia
Acute Pain Management
Pediatric Anesthesia
Anesthesia Risks and Complications
Anaesthesia and Intensive Care
Urology
Surgical Case Reports
| Description | Price | Date |
| --- | --- | --- |
| Speaker Registration fee | USD 649.00 | Before December 30, 2022 |
| Poster presentation fee | USD 349.00 | Before December 30, 2022 |
| Student Registration fee | USD 299.00 | Before December 30, 2022 |