This event is expired!
Global Digital Transformation Strategy Summit DTS on November 30-December 01, 2023 in Berlin, Germany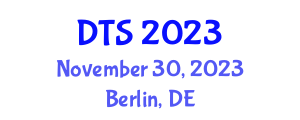 Global Digital Transformation Strategy Summit (DTS-2023)
Discover the true potential of digital transformation for businesses across all industries at our upcoming Global Digital Transformation Strategy Summit (DTS-2023).
From manufacturing and retail to healthcare and finance, every sector is undergoing a digital revolution that is reshaping the way businesses operate and engage with their customers. With the rapid pace of change, the need to adapt and innovate is greater than ever, and embracing digital transformation is the key to unlocking value and growth.
Join us at Global Digital Transformation Strategy Summit (DTS-2023) to learn from industry experts and thought leaders about the latest trends, best practices, and success stories in digital transformation. Through engaging presentations and interactive sessions, you will gain valuable insights and practical knowledge to help you navigate the complex world of digital transformation, improve efficiency, streamline operations, deliver superior customer experiences, and drive your business forward. By integrating cutting-edge technologies such as AI, cloud computing, big data analytics, and mobile connectivity, businesses can tap into new opportunities, drive innovation, and create a competitive edge in the market.
Summit Themes
. Innovation, strategy, and digital transformation
. Workplace productivity, collaboration, and automation
. Mechanism of digitally transforming enterprises
. Organizational change management
. AI and cloud
. ChatGPT, DELL-E 2 and Emerging AI innovation: Business opportunities
. Cybersecurity and digital risk management
. Information security and digital forensics
. Blockchain, cryptocurrency, decentralized finance, and NFT Market place
. Data management, big data analytics
. Developing and executing an effective enterprise marketing
. Sales management, marketing, and growth
. Customer validation and building for what customers really want.
. The mechanics of personal branding in the digital age
. Digitizing high complexity B2B transactions using AI – the next frontier of digitization
. ESG: The rising importance for businesses in a sustainable future
Don't miss this opportunity to unlock the full potential of digital transformation for your organization and set your business on a path to unparalleled success.
URLs:
Tickets: https://go.evvnt.com/1825234-0?pid=10008
Brochure: https://go.evvnt.com/1825234-2?pid=10008
Inquiries: https://go.evvnt.com/1825234-3?pid=10008
Price:
Participation/Attendance Fees: EUR 1799.00
Speakers: Global CIO (part of the Executive Committee) -Trivium Packaging, Managing Director-Accenture, Chief Digital Officer-GKN Powder Metallurgy, CIO - Three Ireland, Cyber Security Advisor EMEA and Data Protection and Privacy Coordinator -SAP, Partner / Vice President - Project Business-Siemens Advanta Consulting, Transformation Group Director -SOCAR Turkey, Director of Operations – Wrapping-Signode, Innovation Booster Orange Africa-Orange, Director, Data Transformation Leader-Philips, Group Chief Product Officer-Wireless Logic, Director of Strategy, PMO and Delivery -Three UK and Ireland, Chief Human Resources Officer -Nipro Europe Group Companies, Industry 4.0 Transformation Leader for MR business unit -Philips, Cloud Systems Architect-DWS Group, Head of Digital Solutions -Siemens Logistics, Adaptation Group Manager-SOCAR Turkey, Senior Director Digital and Data -FTI Consulting, Playmaker -Eyrene, Head of Privacy and Cyber Security - Bosch Group
Category: Conferences | Engineering and Technology
Date and Time: 30th November 2023 at 9:00 am to 1st December 2023 at 5:00 pm
Name: Eusacon
Address: Rybná 716/24, Staré Město, 110 00