European Congress on Computational Methods in Applied Sciences and Engineering ECCOMAS on June 05-09, 2022 in Oslo, Norway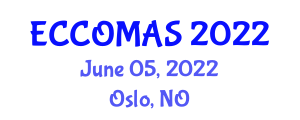 Short Name: ECCOMAS
Event Type: Conference
Presentation: Physical
Website URL: http://www.eccomas2022.org/frontal/default.asp
Location: Oslo, Norway
Venue: Norway Convention Center
Date: June 05-09, 2022
Final Submission: December 10, 2021
Organization: 8th European Congress on Computational Methods in Applied Sciences and Engineering
Modeling the interactions of two surfaces that come into contact and slide over each other
presents many challenges. This is due to the fact that the process emerges from multiple
nonlinear and intertwined mechanical phenomena including adhesion, plasticity and fracture,
which occur at various length scales, ranging from the asperity level to the size of engineering
components.
This mini-symposium aims to strengthen interdisciplinary links between the solid mechanics
and tribology communities to model surface and bulk phenomena needed for a better
understanding of the mechanics of contact, friction and wear at different scales. The focus will
be on the newest theoretical and numerical developments for modeling elastic and inelastic
deformation and degradation of material surfaces during contact from the atomic to the
macroscopic scale.
Topics of interest include, but are not limited to, the following areas:
- Modeling elastic and inelastic deformation of surfaces in contact
- Modeling subsurface plasticity, damage and crack propagation during sliding contact
- Modeling and simulations of adhesive contact, friction and wear
- Development of new continuum and discrete numerical techniques in the field of contact
mechanics.