Blockchain Autumn School BAS on September 13-17, 2021 in Mittweida, Germany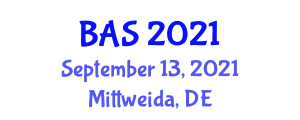 Short Name: BAS
Event Type: Conference
Presentation: Digital
Contact E-mail: [email protected]
Location: Mittweida, Germany
Venue: Blockchain Autumn School (BAS2021)
Date: September 13-17, 2021
Organization: Mittweida University of Applied Sciences
We, the BCCM of Mittweida University of Applied Sciences, will host the 5th Blockchain Autumn School (BAS2021) from September 13 to 17, 2021.
Blockchain technology is on everyone's lips, and scientific, economic and industrial interest has been awakened. However, designing and implementing Blockchain systems requires expertise in several areas. This is where BAS2021 comes in: the Autumn School is an event for education and training in the field of Blockchain. In addition to specialized lectures and a series of internships, 2021 will also feature industry-specific practical lectures and a Blockchain Scientific Track.
Organizer: Mittweida University of Applied Sciences
Location: online. According to current planning, the entire event will be web-based! More information to follow.
Program: Information will follow
Participation and registration: will be activated in time.
Target group: Interested representatives of user and consulting companies as well as students and teachers from universities worldwide. The Blockchain Autumn School is aimed at newcomers to the topic of blockchain, as well as advanced participants who are already familiar with the technology.
Graduation: For successful online participation in the Blockchain Autumn School 2021, you will receive a certificate of participation if you are interested.
Name: Mittweida University of Applied Sciences
Website: https://www.hs-mittweida.de/en/
Address: Hochschule Mittweida, University of Applied Sciences, Technikumplatz 17, D-09648 Mittweida
Mittweida University of Applied Sciences offers its almost 7,000 students more than 50 degree programs of international standard. Students can complete their Bachelor, Master or Diploma degrees at the 5 faculties