This event is expired!
Australasian International Breast Congress COGI-RBMO on October 14-16, 2021 in Brisbane, Australia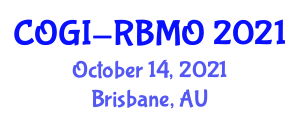 Dear Colleagues,
COGI and RBMO are delighted to announce the 29th World Congress on Controversies in Obstetrics, Gynecology and Infertility. The congress will take place in Berlin, Germany from December 2-4, 2021.
Following the success of COGI 2020, which was fully digital and welcomed over 1000 delegates from all around the world, COGI will again invite world renowned leaders in the field of Ob/Gyn and infertility, to review advances, breakthroughs and controversies in the field via round table discussions, debates, and lectures. Highlights will include the "Robert G. Edwards Nobel Prize Laureate" lecture, cutting edge "countercurrent" lectures by leading experts "who think differently", an inspiring fetomaternal medicine program, sessions on early prenatal diagnosis, pregnancy support, age-related risks, nutrition, the epidemic of multiple pregnancies, HPV, menopause, and more. As always, there will be ample time during every session for speaker-audience discussions.
In addition, we encourage the next generation of physicians, scientists and researchers to be heard. Participants born after 1987 are invited to submit their research for consideration for the Young Scientist Award.
We look forward to welcoming you to COGI and to the congress that again promises to offer an invigorating, exciting and provocative program.
Sincerely,
COGI Congress Co-Chairpersons
Name: COngressMed Ltd
Website: http://www.congressmed.com

CongressMed is a Tel Aviv based company specializing in the development and enhancement of medical education through concept congresses. CongressMed was incorporated in early 2010 by a team of entrepreneurs with extensive experience in the development and management of medical concept congresses. CongressMed's flag brand is the World Congress on Controversies in Obstetrics, Gynecology and Infertility (COGI), which was founded by Chairman Prof. Zion Ben Rafael. Moreover, COGI was previously organized by various PCOs until it became the foundation of CongressMed. The COGI Congress counts over 2,000 participants, taking place each year in both Europe and Asia and has become one of the most influential conferences in its field since its first edition in 1999. CongressMed has learned from the overwhelming success of this congress and applied it to various fields of medicine.