This event is expired!
Asia IoT Technologies Conference AIOTT on May 22-24, 2021 in Kowloon, Hong Kong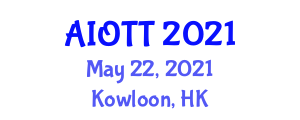 Publication:
Accepted and presented papers will be published into conference proceedings, which will be submitted and reviewed by Ei Compendex and Scopus Index.
Agenda Overview:
May 22, 2021 Participants Registration & Conference Materials Collection
Morning of May 23, 2021 Opening Ceremony & Keynote Speeches
Afternoon of May 23, 2021 Participants' Oral Presentation
May 24, 2021 Academic Visiting or One day tour
Contacts:
Ms. Penny Gan
Email: [email protected]
Tel: 86-13290000003
Smart Cities (Smart Parking, Smartphone Detection, Traffic Congestion, Smart Lighting, etc).
Smart Water (Potable water monitoring, Chemical leakage detection in rivers, River Floods, Water Leakages, etc).
Security & Emergencies
Retail (Supply Chain Control, NFC Payment, Intelligent Shopping Applications, Smart Product Management, etc).
Logistics (Quality of Shipment Conditions, Item Location, etc).
Industrial Control (M2M Applications, Indoor Air Quality, Temperature Monitoring, Indoor Location, etc).
Cognitive Radio Applications and Spectrum Management
Grid Computing
Radio Resources Management
Cloud Computing Technologies