This event is expired!
Annual Conference of The Saudi Society of Rheumatology SSRCON on February 15-18, 2023 in Riyadh, Saudi Arabia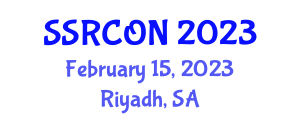 Short Name: SSRCON
Event Type: Conference
Presentation: Physical
Website URL: http://ssrcon.com
Program URL: http://ssrcon.com/en/program
Contact E-mail: [email protected]
Location: Riyadh, Saudi Arabia
Venue: Fairmont
Date: February 15-18, 2023
Final Submission: January 10, 2023
Organization: The Saudi Society of Rheumatology
After the immense success of its previous editions, the Saudi Society for Rheumatology is glad to announce the launch of the 9th Annual Conference of The Saudi Society of Rheumatology (SSRCON 2023) which will be held from February 15th to 18th 2023 at the Fairmont Riyadh Hotel. Learn from invited speakers with large projection both from the clinical and research point of view to cover all the discussion tables that are part of the program and expand your knowledge whilst experiencing three days of cutting-edge research, unrivalled networking, posters, symposia, awards and exhibitions. The theme of our conference is «Addressing Revolution and challenges in Rheumatology» as we continue to celebrate the research of different rheumatology specialties and we expect this programme to be filled with information that is most relevant to our speciality at present and in the future.The conference will also tackle a wide array of main topics within the Rheumatology field namely Rheumatoid Arthritis, Systemic lupus erythematosus, Spondyloarthritis, Vasculitis, Crystal induced arthritis, Scleroderma and Antiphospholipid syndrome. This conference is an opportunity to catch up on new developments in this complex area of medicine as we explore the latest advances in the treatment and management of rheumatic diseases. Leading experts will also present clinically relevant information that you will find immediately useful in the care of your patients.
RHEUMATOID ARTHRITIS
SYSTEMIC LUPUS ERYTHEMATOSUS
MISCELLANEOUS
SPONDYLOARTHRITIS
VASCULITIS
CRYSTAL INDUCED ARTHRITIS
ANTIPHOSPHOLIPID SYNDROME
SCLERODERMA
PEDIATRIC RHEUMATOLOGY
YOUNG INVESTIGATORS FORUM