This event is expired!
Advances in Energy Research, Materials Science & Built Environment EMBE on October 03-05, 2023 in Cairo, Egypt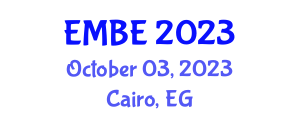 "Advances in Energy Research, Materials Science & Built Environment" conference, through which, discourse across multiple disciplines such as architectural development, green urbanism, modern construction management practices, and material efficacy in climate change mitigation, will investigate research on sustainability and development. Implementing these techniques will lead to achieving efficient, renewable, affordable, and inclusive green growth to accomplish the now urgent developmental needs of countries, and bring about a level of prosperity, and a better managed and robust environment.
With much theoretical and empirical knowledge to draw on in recent years, this conference aims to stimulate a discussion, in the form of submitted contributions and delivered presentations, surrounding the following main topics: (1) Climate Change: Challenges, Risks, and Solutions, (2) Green Urbanism's Role in Resilient Communities and Environmental Efficiency, (3) Opportunities and Challenges in Coastal Areas, (4) Evolving Architecture and Rethinking City's Image and Preservation, (5) Materials for Renewable and Sustainable Energy, (6) The Role of Advanced Technologies in Sustainable Architecture, (7) Entrepreneurial Studies and Practical Applications.
The conference does not only aim to provide descriptions, proposals, and recommendations of innovations, and theoretical foundations, but also offers a comprehensive overview of the latest developments in materials for efficient and sustainable energy applications in buildings, neighborhoods, cities, and coastal zones.
Name: IEREK
Website: https://www.ierek.com/conferences
Address: El Behera, Janaklis
IEREK – International Experts for Research Enrichment and Knowledge Exchange – is an international institution that is concerned with the exchange of knowledge and enhancing research through organizing and managing conferences in all fields of knowledge.