Academic Conference of Safety Psychology and Behavior for Healthcare 1SPBH on March 23-24, 2024 in Bunkyo-ku, Japan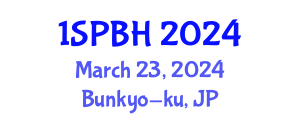 Short Name: 1SPBH
Event Type: Conference
Presentation: Physical
Website URL: http://www.iarmm.org/1SPBH/
Contact E-mail: [email protected]
Location: Bunkyo-ku, Japan
Venue: The University of Tokyo
Date: March 23-24, 2024
Final Submission: December 10, 2023
Organization: International Association of Risk Management in Medicine (IARMM)
An aim of this conference is to improve psychological and behavioral powers of health worker to good safety culture. The target aspects of the Conference are safety psychology and safety behavior for healthcare involving patient safety, medication safety, medical device safety, infectious disease outbreak, and mega disaster.
Under a cooperation with "Japan Society of Psychology and Behavior for Healthcare Safety", a time is a new launch of a global event in this area.
Let's enjoy Tokyo Conference to meet, share information and create your new global partnership.
With best wishes,
Yours Sincerely,
IARMM 2023